We are excited for you to get to know our team. Every week, we are going to share Q&As with the T-Pro staff.
This week's spotlight is on Kate Minogue, our Production Manager.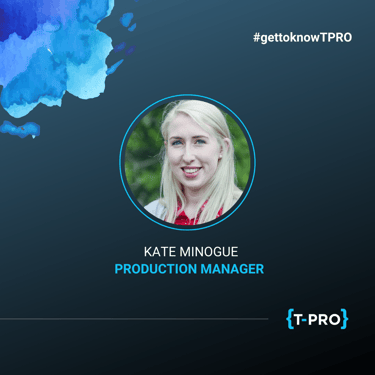 Q: What upcoming technological innovation will dramatically impact the industry in the next few years?
A: Electronic Patient Portals are something that I think will be really beneficial to everyone once they get up and running properly in Ireland. During my Health Informatics Masters, I learned about other countries which employ patient portals with great effects such as Denmark, Estonia, and Australia. Involving patients more in their own care not only lightens the burden on the health services involved, enhancing patient-clinician collaboration, but it also optimises patient autonomy, which is of particular interest to me due to my background as a midwife. So far in Ireland, the pilot for patient portals was established in the Epilepsy services, under the acronym PiSCES (Providing Individualised Services and Care in Epilepsy), and from what I have read it has been a success, particularly during the pandemic. Hopefully following the success of PiSCES patient portals for other specialities will soon be introduced.
Q: What's one of the biggest lessons you've learned in your career?
A: One thing I have learned is the importance of continued development and lifelong learning. In the same vein, I think it's really important to ask questions. I think often people are concerned that others might think they are unskilled or less knowledgeable if they show some vulnerability by asking a question but in the long term it's better to learn how to do something right rather than guessing. Treating people with respect, listening, being professional, and audit trails - Anyone who has worked with me knows I love a good audit trail!
Q: What's your most-used productivity hack?
A: Use a spreadsheet. There are few work-related challenges that cannot be simplified and organised by adding them to a spreadsheet and working through them that way. I use Excel and Google sheets every day. I couldn't live without them at this stage.
Q: What's the best place you've traveled to?
A: Belarus, because it was completely unlike anywhere else I've ever been. I was there with my parents when I was 16, visiting orphanages helping them buy new equipment with money raised through the East Clare Chernobyl Children's Project. We travelled to cities including Minsk, Breast, and Pinsk. In Breast, we had the opportunity to visit the Brest-Litoŭsk Fortress which was one of the frontier strongholds during the first week of the invasion of the Soviet Union during WWII and still displayed much of the destruction of that time. There are WWII memorabilia statues dotted all over the cities and some of the older people I met had lived through it so it was very interesting to speak to them and hear their recollection of it. We also visited some rural areas, most notable being a place called Stockhova, which was only 10 kilometres or so from the Chernobyl Nuclear Power Plant. In the rural areas, people didn't have much and lived in simple wooden houses, but they were all very hospitable. Everyone we met in Belarus was so welcoming and friendly. We had the added bonus of staying with different families when we were there so I was lucky enough to see the "real" Belarus, or at least as real as any foreigner is permitted to see.
Q: What's the best concert you've been to?
A: It's between Metronomy and Eagles of Death Metal, both have little in common apart from the fact that they were both held in the Olympia in Dublin, which is my favourite venue.
We hope you're enjoying getting to know our team. Follow us on LinkedIn for more information and stay tuned for our next week's spotlight!