We are excited for you to get to know our team. Every week, we are going to share Q&As with the T-Pro staff.
This week's spotlight is on Leandro Hoffmann, our Lead Software Engineer and Phil Cambridge, our Speech to Text.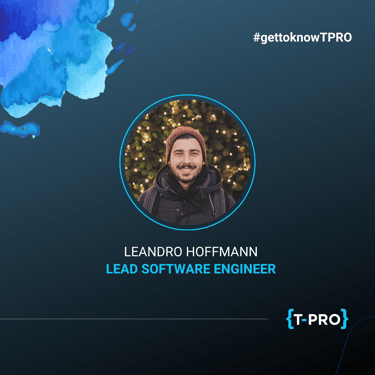 Q: What's the most exciting part of your job?
A: We can pick any tech we want to use, the freedom of choice is something that most companies don't have because of the old mindset.
Q: If you could get a new skill in 10 minutes, what would it be?
A: Study Mandarim as I believe this skill would open a huge range of opportunities in all aspects of life.
Q: What's the best concert you've been to?
A: I was able to enjoy the master genius of music Hans Zimmer in Ireland. As a musician, I don't have words to describe the sensations of seeing him live.
Q: Have you ever met anyone famous?
A: I met Alexis Ffrench at the Royal Albert Hall in London, where I was invited to play a song with him on the BIG RED piano, the one Elton John used to play. It was another unforgettable experience.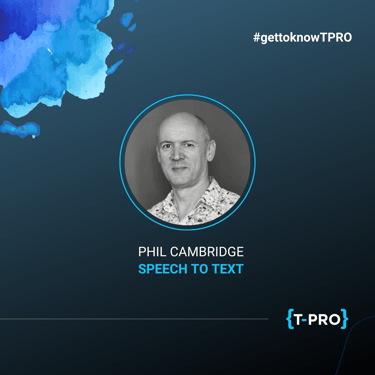 Q: What's your most-used productivity hack?
A: I've found that the most effective productivity hack is to take breaks, but I'm afraid I'm still not terribly good at switching off once I'm in the zone.
Q: What motivates you at work?
A: I have always been motivated by seeing real problems solved by impressive technology. The power of modern Automatic Speech Recognition still floors me, and because ASR in real-world applications will always have its complications, there will always be an unlimited number of challenges to pursue - learning fascinating theory in the process.
Q: What's one of the biggest lessons you've learned in your career?
A: In software, no matter how unlikely a problematic situation is, it will always occur - usually during a demo.
Q: What's the best place you've traveled to?
A: The Milky Way is incredible from the Cordillera Blanca in Peru. I was hiking and camping at nearly 5km altitude, definitely beats strolling around Cambridgeshire.
Q: Have you ever met anyone famous?
A: I briefly met Brad Pitt in a gents in Budapest. It was unplanned.
We hope you're enjoying getting to know our team. Follow us on LinkedIn for more information and stay tuned for our next week's spotlight!