Speech technology in hospitals is on the rise
Back in March, we shared an article discussing the future of speech recognition in healthcare. Only three months later, as a result of the COVID-19 pandemic, the use of this technology has soared in hospitals due to its ability to save significant amounts of time, improve documentation turnaround, reduce backlogs and much more.
As increasing numbers of hospitals have begun to recognise the benefits of speech recognition technology and implement it in their setting, other hospitals are looking to follow suit.
If this is the case for your hospital but you're not quite sure how to implement this effectively within your setting, read on:
An important note
Before you can implement speech technology in your hospital, it's vital that you choose your provision wisely, based on your hospital's specific needs and budget. You can learn more about this in our blog 6 essential things to consider before you invest in new hospital tech.
5 days to successfully implement speech technology in your hospital
1. Integrate it with your current systems
For your chosen speech technology to work as efficiently as possible, it's important that you integrate it properly with other software in your hospital's current infrastructure.

Our speech recognition services at T-Pro, for example, can be used within or alongside your EHR, to complement existing workflows and streamline clinical documentation, as it enables you to use advanced speech recognition capabilities and dictate directly into any application. T-Pro Speech's interface can also be embedded into in any platform, and integrates with HIS, RIS, PACS, PAS and EPR systems.

By integrating speech technology with all your current systems, you'll not only see a boost in clinician's productivity and contact time with patients, but also a reduction in costs, and help you achieve paperless workflows – as seen in the Galway Clinic, who were awarded HIMSS Stage 6 for their adoption and utilization of electronic medical record functions.
2. Explore back-end solutions as well as front-end
Many hospitals choose to only implement front- end speech recognition – that is, those that allow clinicians to create documents and correspondence in real time using e.g. a dictation microphone or wireless headset while at their PC.

While this is an incredible time-saving solution, this alone can result in increased costs, as clinicians can spend too much time editing and correcting their dictation.

Back- end speech recognition, on the other hand provides greater flexibility, allowing clinicians to dictate while at their desk or on the move and send clinical documentation produced from speech recognition software to a medical secretary or expert transcribersa team of medical transcriptionists to review to proofread (and edit, if necessary), which not only reduces their workload, but also improves turnaround time of documents and, ultimately, saves on costs.

It's therefore also worth considering back-end speech recognition solutions as well as front-end to successfully implement speech technology in your hospital.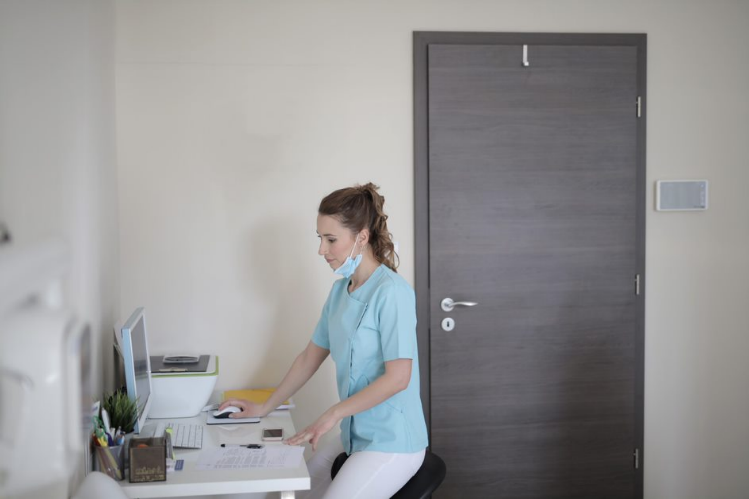 3. Create/re-evaluate your BYOD policy
One of the greatest benefits of speech recognition technology is that it can be leveraged using a wide range of hardware devices, such as laptops, tablets and phones, whether they belong to the hospital itself, or the staff that work there.

With the safe and secure implementation of a BYOD policy, hospitals can equip their clinicians with the ability to use speech recognition technology on the go and at the point of care, simultaneously freeing them from their desks and increasing the time they can spend with their patients.

If your hospital does not have a BYOD policy or has one that limits device usage, be sure to create one or review your current policies in line with the HIPPA so that you can take the benefits of your chosen speech recognition technology even further.
4. Train all members of hospital staff
Although the predominant users of your hospital's speech recognition technology will be clinicians and administrative/secretarial staff, you'll also need to train up staff in other departments to implement it successfully.

This is because the speech technology will be integrated with other aspects of your hospital's infrastructure. All members of staff will therefore need to be aware of it in order to remain informed, adhere to patient privacy and confidentiality policies, and perform their duties efficiently.

Therefore, once your chosen speech technology has been implemented, devise and carry out an intensive training programme for the separate departments in your hospital, with regular revisits and reviews, so that all members of staff can work successfully with or alongside the technology.
5. Access support from your speech technology provider
A large part of implementing speech technology successfully into your hospital is having the right level of support behind you.

At T-Pro, we have a robust Help Desk team on hand to support the users of our speech recognition technology, as well as a team of medical experts who are always ready to answer any questions and queries you may have.

If you'd like to see how you can reap the benefits of speech recognition technology in your hospital with our next-generation speech recognition solution, get in touch with us today, or request your free one-month trial of T-Pro Speech now: