Background
South East Community Healthcare provides specialist mental health services including acute inpatient, community based (child and adolescent, general adult, psychiatry of old age etc.) day hospitals, outpatient clinics and community residential and continuing care settings to a population of roughly 500,000 spread across Carlow, Kilkenny, South Tipperary, Waterford, and Wexford.
Committed to generating positive health outcomes for their community, South East Community Healthcare are focused on increasing the efficiency and quality of health services whilst operating within a constrained financial environment. Determined to deliver care closer to home, clinical staff work across multiple geographic areas, with a significant portion of care settings in rural areas.
In line with the eHealth Ireland's "Cloud First Digital Strategy", South East Community Healthcare mental health services made the executive decision to switch from analogue tapes to T-Pro's cloud-based Digital Dictation clinical correspondence workflow solution to support mobile working, improve turnaround and save costs.
Challenges
One of the HSE's larger community health organisations, with multiple sites in remote settings with poor internet connection and 3/4G access, South East Community Healthcare mental health services needed a user-friendly central solution for clinical correspondence. Considering that a large set of clinicians in the division own smartphone devices, carrying around clunky recording devices was inconvenient, and users had no access to or ability to update the patient record whilst working remotely. A mobile digital dictation workflow solution was needed to empower staff to deliver care within the community and document the patient encounter at the point of care, whether in the clinic or on the move.
Analogue tapes, which are not encrypted and can easily be misplaced, presented a series of challenges in terms of productivity, security, and performance management. Transferring tapes from remote care settings to secretarial staff based throughout several locations severely slowed document turnaround and exhausted staff resources.
Solution
South East Community Healthcare chose T-Pro to provide an affordable, scalable and securely robust central platform to improve the speed, accuracy and quality of clinical documentation.
The T-Pro digital transformation team worked closely with South East Community Healthcare to co-design an enterprise-wide solution for clinical documentation workflow improvement. After further assessing all departments workflow requirements, the transformation team relayed relevant feedback and recommendations to management, ensuring that current and future performance indicators were met and that the new system would deliver the desired improvements.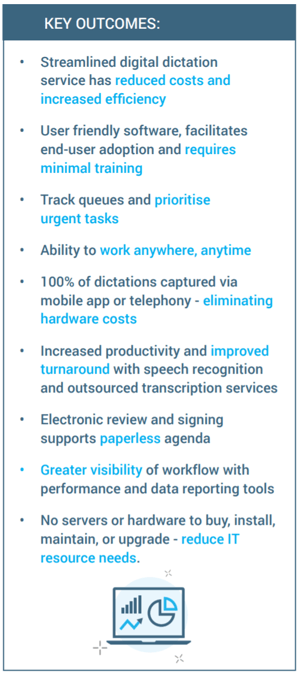 T-Pro's custom digital dictation solution was deployed to over 180 staff in over 30 locations within the mental health services division in Carlow, Kilkenny, South Tipperary, Waterford and Wexford, as a replacement of tape and paper-based systems. Comprehensive training was provided to clinical and secretarial staff to ensure user adoption was successful. T-Pro's designated project manager was involved throughout the process, and super-users were identified to champion the solution at a local level. Additionally, all users have real-time access to T-Pro's 7 day a week in-app support and e-learning resources.
Benefits
South East Community Healthcare mental health services is now benefiting from a highly efficient documentation workflow solution, resulting in increased staff productivity. Within one year of operation, the time spent on transcription tasks has reduced dramatically. Secretaries are able to process more letters and significant improvements in turnaround time have been felt across departments.
"The transparency of the T-Pro platform has been hugely beneficial to our administrative workflow. The platform makes it easy to track dictations across all units, and transfer work between secretaries. T-Pro staff have been so supportive from the beginning, and consistently provide an efficient and accommodating help desk service", commented Ann Lawlor, Staff Officer at Wexford Mental Health Service.
Mobile app-based dictation allows clinicians to work more efficiently while on the move using their smartphones, eliminating expensive hardware costs. T-Pro have advanced clinical documentation management processes by eliminating the manual transferring of analogue tapes and associated travel costs, leading to a significant improvement in turnaround across mental health services. The system also allows managers assess workloads and distribute work evenly.
Paul Coughlan, Staff Officer at Waterford Mental Health Service, added: "Mobile dictation via T-Pro's app has greatly benefited our service as it facilitates doctors to safely complete their dictations in real time whilst in community settings. This facility ensures dictations are typed and approved in a much shorter period, allowing a much faster turnaround time."
T-Pro's automatic Speech Recognition and Outsourced Transcription services are utilised in mental health services in Carlow, Kilkenny and South Tipperary, which has led to even faster turnaround. This has freed up secretarial time, for more substantial high priority jobs. On completion of proofreading, and any required changes, the letter is sent back to the clinician who can rapidly check and approve from any location using the web or mobile app.
South East Community Healthcare is already planning the next stage of the project which includes integration with iPMS (Patient Administration System) in Waterford and Kilkenny. This will allow letter templates to be automatically populated with dynamic data types, saving valuable time and improving documentation efficiency.
To learn more about how T-Pro can benefit your organisation, please get in touch.