Clinician's major contributors to stress and burnout are overwhelming administrative tasks and the burden of clinical documentation. Many Clinicians carry the burden without solutions and feeling exhausted while serving patients.
T-Pro's solutions allow clinicians to focus on delivering vital care and with this, we're proud to assist some of the NHS hospitals, other global health organisations and we look forward to continuing our expansion & success.
Research carried out by HIMSS found 97% of doctors and 99% of nurses surveyed had experienced burnout at some point in their working life...
Why it matters:
According to the International Classification of Diseases ICD-11 burnout is characterised by energy depletion or exhaustion, increased mental distance from one's job, feelings of negativism or cynicism related to one's job, and reduced professional efficacy.
An article in The Lancet published in July 2019 Physician burnout: a global crisis, said burnout among physicians "has reached global epidemic levels", based on a British Medical Association (BMA) survey which found 80% of doctors were at high or very high risk of burnout.
With so many different digital health records and other systems to navigate, clinicians still need to spend a long time making sure patient information is up to date and accurate. The opportunity now is to add smaller quality-of-life technologies to support those centralised patient management systems.
Some of our helpful solutions:
AI-powered solutions: Evolve and digitally transform your health organisation with our AI-powered solutions. Speech enable your EPR, clinicians can quickly create documents on the move, reduce costs & workload with T-Pro Speech.
eClinic Manager: Virtual patient consultations, deliver a fully integrated telehealth solution that improves outcomes, reduces costs, and boosts capacity with T-Pro eClinic Manager.
Digital Dictation: Optimise your digital workflow to reduce medical transcription burden with mobile working & speech-to-text capabilities with T-Pro Dictate.
Transcription: Safely outsource critical business processes, improve financial performance & support documentation while freeing your department to focus on other priorities with our team of experts.
What makes us different compared to other providers:
Just a quick summary - we are here to help! Our solutions can be simply integrated into your systems. Our support team is available on-demand to all T-Pro users.
We also work with AWS, It's a multi-tenanted platform that allows us to deploy regional and national solutions with jurisdictional data control and data governance, AWS assists us to stay on top of compliance and ensure data security.
Some of our client's feedback: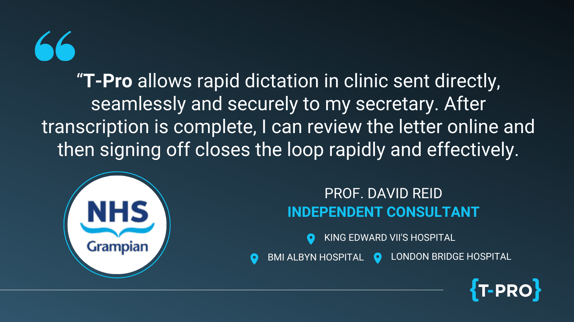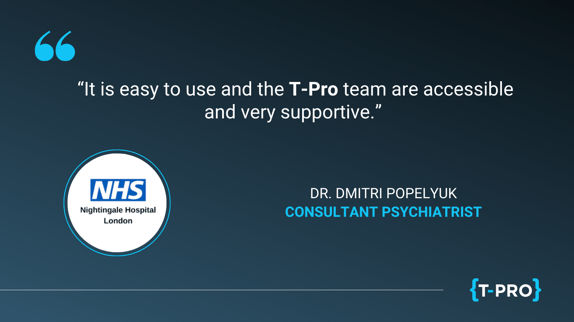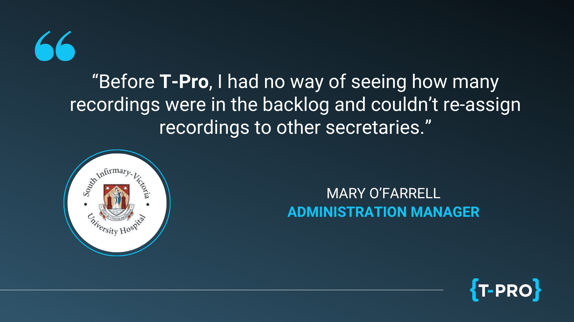 For more information about our solutions, please feel free to reach out to us.
Phone:

UK +44 (0) 808 1891090.


Email: info@tpro.ie
Website: https://info.tpro.io