Meet an Advanced Nurse Practitioner, Diana Malata...
T-Pro works with some of the leading clinicians in healthcare today. This year, we would like to celebrate International Nurses Day by shining the spotlight on Nurse Diana.
Diana is an Advanced Nurse Practitioner at the Royal Victoria Eye and Ear Hospital, Dublin, Ireland. The hospital was founded in 1895 and it's is the National Referral Centre for both Eye and Ear, Nose, and Throat disorders. It's also the 2nd hospital in Dublin to obtain full JCI accreditation. It has over 1,300 visitors per month and 109,800 patients per year.
We understand since the beginning of the COVID-19, clinicians and staff continue to selflessly work around the clock to provide care to their patients during the pandemic. We appreciate all frontline workers and we're proud to support clinicians where possible.
We've virtually conducted a Q&A session and here is what Diana said...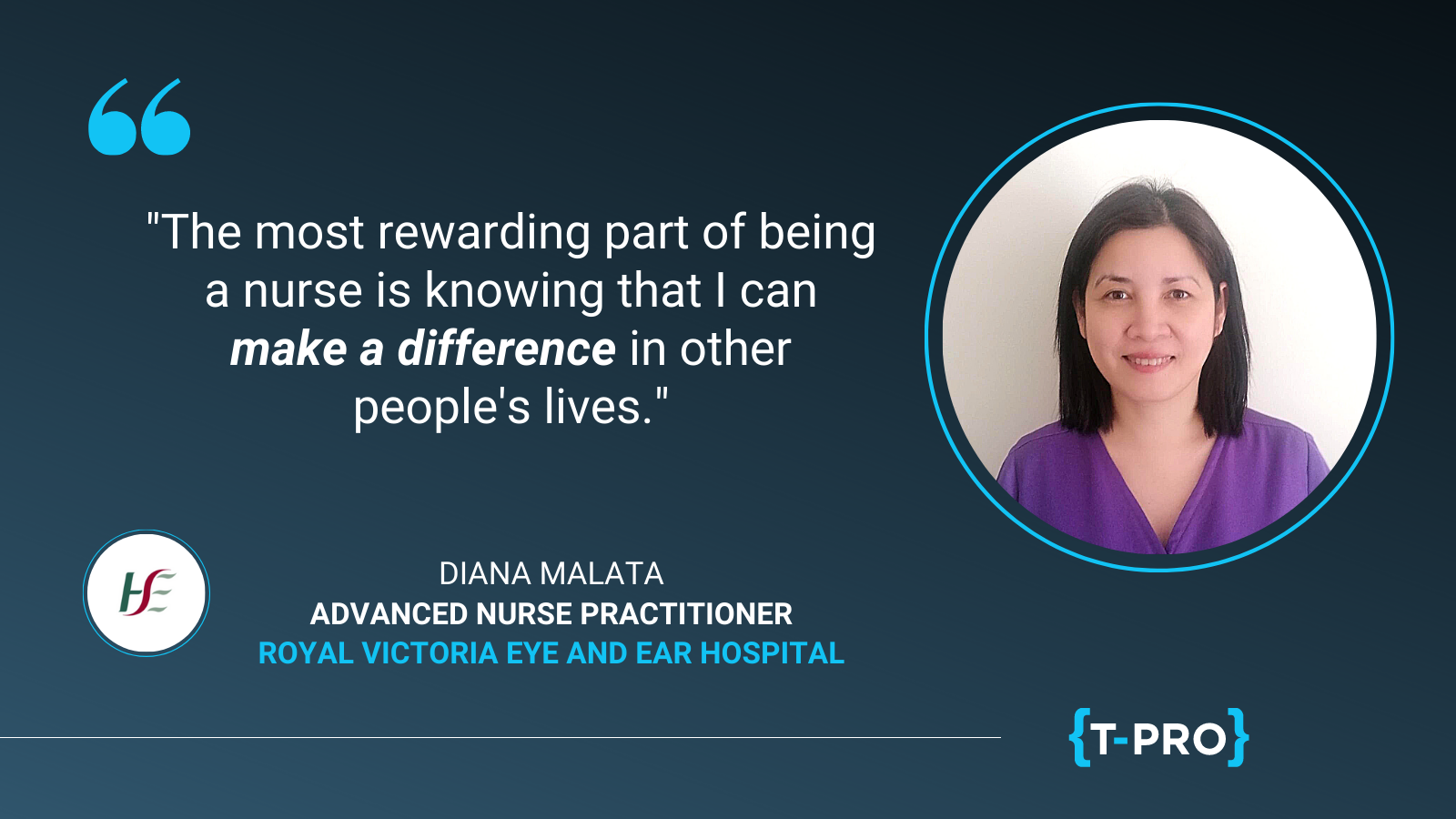 Why did you decide to become a Nurse?
I am by nature a caring person, so I decided to become a Nurse because I felt at that time that it was a calling for me, a calling to service. I saw it in my mother who worked as a healthcare worker in our health center. I saw while I was growing up how she helped people through the outreach and vaccination programs, so I volunteered to help too. I was inspired by the compassionate and caring role of the nurses, how they connected to patients and touched them in their own special ways. So, I've decided to pursue a nursing career. I completed my Bachelor of Nursing degree in the Philippines and went on to specialise in ophthalmic surgery. For a number of years, I worked as an operating theatre nurse in Saudi Arabia and Egypt. In 2004, I was registered as an RGN in Ireland and joined RVEEH as a staff nurse in the eye operating theatre and in November 2019 I started working as an Advanced Nurse Practitioner in Ophthalmology.
What's the most rewarding part of being a Nurse?
The most rewarding part of being a nurse is knowing that I can make a difference in other people's lives. Sometimes the little things that I do for my patients, like simply listening to them, explaining things to them, and making them feel reassured. These little things I do for them are the most important to me. Also, the pleasure of being there for them from the time they were diagnosed, treated and seeing how well they are recovering is very rewarding. It is a privilege to be part of their journey.
As a T-Pro User, what solutions & services do you find most useful/helpful?
In February 2020, I set up the nurse-led post-operative virtual clinic, which was provided by T-Pro through their eClinic Manager solutions. With this virtual clinic, I mostly use the system to monitor patients post-cataract surgery. I also conduct the virtual consultation 3-4 weeks after their operation through phone and video calls.
In May 2020, I set up the nurse-led keratoconus virtual clinic, I find T-Pro eClinic Manager solutions are most helpful because I can continue to provide vital care during the pandemic, monitor patients with stable keratoconus. I can also assess patients and book them in for consultations through video calls. There is a sharing option where I can show my patients the result of their vision tests and their scans which I found very helpful.
Patients can attend their consultations from the comfort of their own homes with any devices. The system is so easy for me to use and with our recent patient satisfaction survey, 83% of our patients found the new virtual clinic service more efficient than previous outpatient appointments mainly because of the reduced time spent in the hospital. The improvement was phenomenal for us and the patients, it was also featured on RTE news.
What advice do you have for new Nurses?
My advice to new nurses is to enjoy their journey in nursing, never stop learning, collaborate with their colleagues and connect to their patients. Don't be afraid to use technology to expand their practice and to improve the way they care for their patients.
If you wish to send a thank you message to the HSE, public healthcare workers, please free to click here.
For more information on T-Pro services & solutions, please feel free to contact us.