We are excited for you to get to know our team. Every week, we are going to share Q&As with a T-Pro staff. This week's spotlight is on Jade Roseingrave, our Head of Marketing.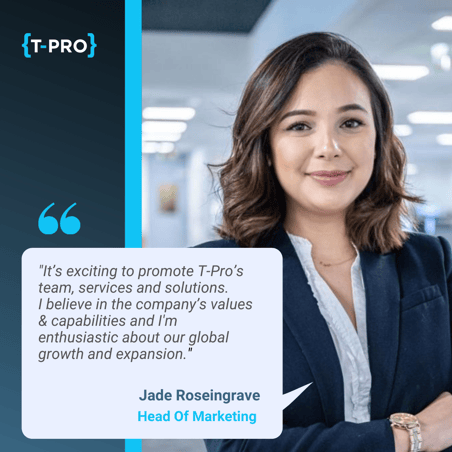 Q: What's the most exciting part of your job?
A: Being part of a Medtech Industry. It's fascinating how healthcare delivery can improve so much with advanced digital technologies, such as artificial intelligence, VR/AR, 3D printing, robotics, or nanotechnology. It's exciting to promote T-Pro's team, services and solutions. I believe in the company's values and capabilities and I'm enthusiastic about our global growth & expansion. T-Pro provides patient-centred solutions, we reduce the administrative burden tasks that contribute to clinicians' burnout so they can focus on their priority task, which is delivering vital care to patients. It's rewarding for me to be part of this improvement for both patients and clinicians.
Q: Where do you feel really in your element at work?
A: I enjoy being a Marketer and I'm grateful for my experience in various industries. However, I am truly in my element when it comes to analysing data. Numbers don't lie and you can't improve what you don't measure. I enjoy being organised and keeping track of metrics that matter, they can provide valuable insights, and improve performances.
Q: What projects are you working on right now?
A: There are several ongoing projects, I'm most excited about the launch of our new website in July. I also work closely with our International Operations, Isaac Boss as we are expanding in the APAC region. It's always exciting to work with international markets, I enjoy making new connections and getting to know our prospective clients, and seeing where our services and solutions can be helpful to them! Lastly, we have also set up a team culture for T-Pro and I'm thrilled to lead this project as I am an advocate for diversity and inclusion in the workplace.
Q: What's the best book you've read and why?
A: The Power of Now by Eckhart Tolle. I've had this book for 4 years now and I highly recommend it to anyone! It taught me how to disconnect from the insanity of the mind and it introduced me to practice mindfulness and meditation. Every time I read it, I learn something new and it helps me with my personal growth and spirituality. You don't have to take my recommendation seriously but In 2000, the book was also listed as recommended reading in Oprah Winfrey's O magazine so I know it's good! Give it a try!
Q: What's your favorite thing to do on the weekends?
A: I like all outdoor activities. Since Inter-county travel for non-essential reasons is now permitted in Ireland, I've made a promise to myself to go on a hike every weekend. I also live very close to the sea out in Dun Laoghaire, so most weekends in the Summer, I enjoy paddleboarding, swimming, and reading in the sun.
Follow us on LinkedIn for more information and stay tuned for our next week's spotlight!