Background
University Hospital Kerry serves a remote, rural population of 145,048 and provides acute services to the population of Kerry, and also parts of West Limerick and North Cork. There are over 90,000 outpatient appointments scheduled annually; in 2013 UHK recorded 36,517 ED presentations, 13,198 inpatient discharges, and 10,871 day case attendances, and volumes are increasing. Each patient interaction requires a detailed medical record of the process to be created. This is essential for the management of the patient episode and to meet statutory obligations. There are several different types of medical reports depending on the nature of the care episode and the time it takes to produce reports has a critical impact on the efficiency and overall duration of the patient pathway.
UHK formerly utilised analogue tapes and dictaphones for dictation. The technology was antiquated and the business processes surrounding it had not changed in the hospital environment for decades. After dictation, the author passed the tapes to individual secretaries who then typed up the correspondence from the tape. There were many drawbacks with the system. The limitations of the analogue 'tape based' system in use across every department in the hospital was evident daily. Tape breakages, missing tapes, lack of backup and diminishing tape quality due to increased wear and tear were inherent factors associated with the system. It was difficult to prioritise and share workload between secretaries. It was impossible to get management information on the timescales and status of document production. There were significant delays in patient discharges due to delayed documentation, leading to an increase in the Average Length of Stay (AVLOS), a metric against which the hospital is measured for effectiveness, causing significant bed blockages, delayed admission for sick patients and loss of reputation
Solution
The T-Pro solution is a versatile digital dictation, speech recognition and clinical correspondence platform designed to replace tape and paper based systems used in medical dictation, transcription, and transmission. Clinicians, medical secretaries, and administrators are provided with an intuitive, easy to use interface enabling them to easily record, transcribe, review, sign off and manage workloads, as well as allowing them to leverage additional options such as speech recognition, outsourced transcription, and smartphone-based dictation.
After an initial pilot in Orthopaedics, to further establish whether digital dictation could provide an easy to use and reliable solution to improving efficiency and saving costs within UHK, the hospital elected to extend the T-Pro platform to all departments within the hospital. Since deploying the T-Pro platform, UHK now benefits from a huge productivity gain on the part of the medical secretaries, allowing overtime to be reduced. The system deployment frees clinicians from their workstations and accelerates the delivery of critical medical data whenever and wherever patient care is needed.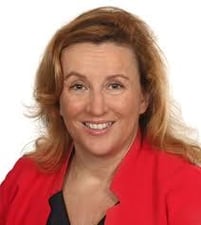 Maria Godley, Hospital Manager:
"I'm delighted with the results so far and we have seen some very impressive improvements in the turnaround times for completed documents. The T-Pro platform has also given my team access to comparative quality, efficiency and cost statistics, allowing the hospital to take control of our transcription process."
Benefits
More efficient use of secretarial time

No overtime costs

No temporary employee costs

Comprehensive analysis of workflow

Compatible with the introduction of an electronic case record

Non-replacement of lost, broken or worn out analogue tape machines

Complete removal of temporary cover when secretaries are off sick or on annual leave

Removal of costly administrative vacancies

Reducing the turnaround times for reports & patient notes

Increasing the number of clinicians without increasing the secretarial resource
Objectives Achieved
Contribute to the UHK's policies of providing safe, effective care to their community

Speed up the patients journey through the system via a quicker turnaround of patient/client notes with a reduction in the time it takes to send letters to the patient/client

Provide an effective, economic and efficient administration service

Maximise the use of technology and eliminate waste

Ensure equitable access to administrative services
Tony Higgins, Orthopaedic Consultant:
"Since deploying T-Pro, we have seen a huge change in the way letters and other dictations are handled - and this has been universally for the better. Clinical dictation is uploaded to the secretaries on a patient by patient basis rather than being sent in batches via tape. The secretarial staff can now share the work around, improving demand management with a clear view of date and priority order for all the pending dictations, and are confident that no letters are lost or unacceptably delayed. The difficulties sourcing near-obsolete magnetic tapes and the risk of losing work due to faulty tapes or machines have been eliminated."
To learn more about how T-Pro can benefit your organisation, please get in touch.