The time and cost-saving benefits of medical dictation equipment and software are seemingly endless.
At a time where healthcare professionals are struggling to give patients the time they need and have limited budgets with which to improve their services, medical dictation equipment and software offers hospitals and other healthcare settings a well-rounded solution.
In fact, digital dictation is the first choice of technology listed in the NHS's Digital technology essentials guide for its financial benefits.

In one study, they found that University Hospitals of Morecambe Bay NHS Foundation Trust's radiology team produced cash savings of £69K per year – with a return on investment achieved in five months – simply by using medical dictation software.

In another study where medical dictation and speech recognition software was used in hospital emergency departments, 98% of clinicians reported that it had a positive impact and found that they could create a document up to 40% faster than they would have done by writing or typing.

But what it is about medical dictation software that produces these time - and cost-saving benefits? Read on to find out:
4 ways medical dictation software will save time and costs to your hospital
1. Replacing tape-based systems and paper-based workflows
Traditionally, many hospitals have used analogue tape machines to record patient data and appointments.

However, not only are medical professionals then required to either type out these notes themselves or transfer to and from multiple locations to secretarial/administrative staff, which can take up large amounts of time, but the replacement of lost, broken or worn out machines can become costly.

Similarly, paper-based workflow systems are thought to cost hospitals and other healthcare settings thousands of pounds a year, both in printing costs and managing the documentation. What's more, physical documentation is difficult and time-consuming to track, and poses significant compliance and security risks.

Medical dictation software eradicates both issues as it can be installed on a multitude of different devices, such as tablets, laptops and smart phones, whether these currently belong to the hospital or are part of its BYOD policy.

This allows healthcare professionals to capture the patient encounter "at the point of care" from their chosen device and save significant amounts of time physically writing and typing information up or transferring to a secretary to complete. What's more, with medical dictation software such as T-Pro Dictate, clinicians can electronically review and sign documents, which is then routed securely back to the EHR, GP or downstream systems e.g. outward mailing service provider.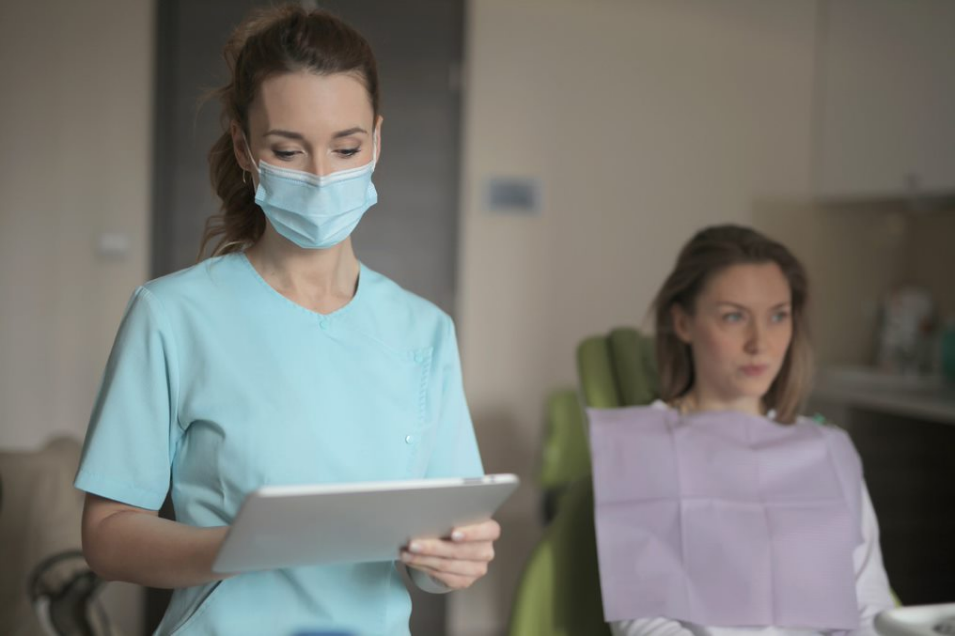 2. Reduced staffing and overtime
As was the case with South Infirmary Victoria University Hospital prior to implementing medical dictation, many hospitals record patient data and appointments via tape-based solutions, which individual secretaries and other administrative staff are then required to type up.

This means that many hospitals lose significant funds paying these members of staff for hours of work, and medical professionals may then lose more time reviewing and updating these notes in case of errors.

Adopting innovative technologies is cited as an efficient means of reducing administration costs in hospitals. With speech recognition, hospitals can improve the speed, accuracy and quality of their clinical documentation and allow clinicians to spend time on what matters most – patient care.

With a platform such as T-Pro, this software is also optimised for medical terminology and regional accents, meaning that not only do secretaries save hours of time typing up notes from scratch, but scope for terminology mistakes is vastly reduced.

What's more, if you outsource the transcription following the dictation, this can reduce costs even further, as this provides the opportunity to cut back on temporary staffing costs, as well as increase document turn-around times.

As an example, T-Pro offers a team of expert medical transcriptionists 24/7, which has been transformative for hospitals and other healthcare settings across the country.
3. EHR integration and system compatibility
With the right choice of medical dictation equipment and software, you can also reduce costs and time constraints around your EHRs.

As an example, T-Pro's medical dictation and speech recognition services can be used as an integrated extension of the hospital's PAS or EHR, to complement existing workflows and streamline the documentation process. Clinicians can dictate directly into any EHR or 3rd party application. They can also configure commands in order to speech enable any other existing workflows your hospital's IT team currently run, which will save significant amounts of administration time. According to CareCloud.com:

"In the absence of voice recognition, physicians usually encounter a lengthy series of screens, tabs, checkboxes, radio buttons, form fields and pick lists, exhausting 5 to 12 minutes, more than 100 mouse clicks and an abundance of manual data entry to produce a single exam note. With trained voice recognition and dynamic, command-based responses, a single exam note should take less than 90 seconds."

What's more, because medical dictation like T-Pro's can be integrated easily with a multitude of systems, your IT department won't have to spend more of your hospital's budget sourcing and implementing additional software.
4. Cloud-based solutions
Cloud-based medical dictation solutions can offer several time and cost-saving benefits for hospitals.

At T-Pro, our cloud-based dictation platform means that healthcare settings are not required to install software locally, or source and implement an expensive infrastructure. This significantly reduces the time constraints and costs associated with IT management and hardware maintenance.

On top of that, our cloud-first medical dictation software allows you to stay up to date with critical security updates, and OS and hardware changes as well as access new features – all without the usual extortionate upgrade costs.
In summary:
It's safe to say that the time- and cost-saving benefits of medical dictation equipment and software can be transformative – from reducing administration all the way through to IT costs. However, the list above barely scratches the surface of the potential these services could have in your setting.

At T-Pro, it is our goal to support healthcare organisations with our innovative medical dictation solution in order to enhance their productivity, save them precious time, and significantly reduce their expenditure.

To learn more about this, get in contact with our team. Alternatively, you can dive straight in and request your free one-month demonstration of T-Pro Dictate today: